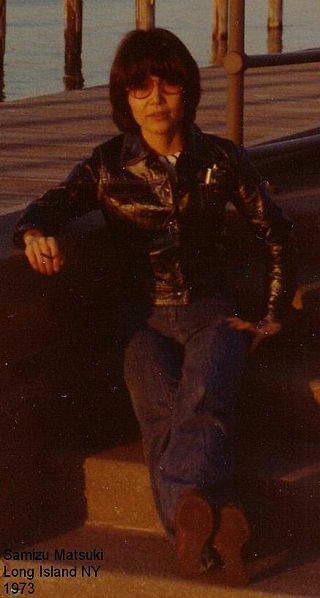 About Samizu Matsuki.
Samizu Matsuki's significance was in her returning the techniques of Western Classical Realism painting, as refined by Japanese art schools since the 19th century, back to the West. In the early 1970s she created a series of award winning works series of award winning works before a a spinal injury and later, Lyme Disease
Samizu - she prefers to be known by her first name - was born March 16, 1936 in Uryu, Hokkaido, Japan to educators Satoru and Masue Matsuki. Her father Satoru's opposition to the Japanese War led to official reprisals forcing he and his family into hiding for most of World War 2. After the surrender of Japan, his known anti-war sentiments resulted in his being given an educational leadership post, where he applied the innovations of American educator Ruth Benedict & philosopher John Dewey to the Japanese educational system, earning him an award from Emperor Hirohito in 1970.
Samizu was introduced early to western culture by her father . She recalls the early impression made on her by the works of western influenced Japanese artists Ryusei Kishida , and Kuroda Seiki
The family lived in a number of locations on Hokkaido, finally the resort city Noboribetsu, famed for its scenery and hot springs. Samizu's lineal ancestors had moved to southern Hokkaido in the late 19th century.
Samizu was awarded a scholarship to the Women's College of Fine Art's Faculty of Western Painting. Tokyo. She graduated in 1958 with a Bachelor in Arts degree. Her graduation work "Daphne" (oil, approximately 4' by 5'), is in the collection of the Noboribetsu Cultural Center, Hokkaido, Japan. The painting suffered some notoriety for its sensuality; briefly pulled from view, it mysteriously reappeared on the display wall the next morning. Samizu Matsuki, left, and 2 other teachers, Tokyo, 1960
Her two teaching jobs, one at an elementary school in Itabashi Precinct in 1959, the other at Shimura Daisan Junior High School in Tokyo in 1960, illuminated for her the malleability of children per the call of art critic and historian Herbert Read for originality and creativity.
An active member of the Tokyo Teachers Union, in 1960 the Teachers Union Monthly published a presentation and lecture Samizu gave in the swank Bunkyo Precinct in Tokyo, where , speaking on behalf of the teachers of the more working class Itabashi precinct, she called for adoption throughout the Japanese educational system of the education principles laid out by Reade in his book Education Through Art.
In 1961 Samizu married American airman Herman Berry at the American Embassy in Tokyo. They left Japan in 1962, and for the next seven years lived at airbases in Europe and the United States. When her husband was sent to Pakistan, Samizu spent eighteen months with Berry's relatives, where she painted portraits of residents of their remote Appalachian mountain community in western North Carolina.
Upon his return, they spent four years at the Spangdahlem Air Base in Germany. During this period 1964 to 1968, Samizu visited Rome and painted commissioned portraits for five Air Force officers and their wives, and was commissioned by the Officers Club of the 49th Tactical Squadron to paint a portrait of the recently deceased USAF fighter ace Richard Bong
Samizu became increasingly disillusioned with her spouse's violent jealousy, and in 1969 divorced Berry while they were living at Calumet Air Force Station in northern Michigan. Uterine cancer shortly caused her to get a hysterectomy at age 32. She spent that summer in Albany, Oregon, where she submitted the winning design for the logo of the 1969 Albany Jaycees Timber Carnival. This being the Carnival's 25th anniversary, the theme was "passing the torch." Samizu's drawing, shown here on the carnival's pinback button, depicts a young logger with hardhat and chainsaw and an elderly logger with wool cap and axe, standing behind a short bark-covered log. The young logger has an arm around the shoulder of his elder in comradely fashion.
Informed that six years would pass before she could be declared free of cancer, in 1970 she plunged into the New York fine arts cultural scene. By 1975 her explorations of classical realism had won her a gold medal at the 1970 First New York International Art Show, membership as one of the first woman artists in the hitherto men-only New York art club, the Salmagundi Club, the Grand Prix at the 1971 Locust Valley Art Show on Long Island, New York, and the Award of Excellence at the 1974 Abraham & Straus-Hempstead Art Show, "Long Island Art '74".
Becoming less concerned about a resurgence of cancer, Matsuki, who'd become known as "the shark", by friends for her seemingly never slowing down, then worked at a more leisurely pace, and stopped entering competitions. She returned to Oregon in 1980, where she taught at the Albany Art Center, worked on a baccalaureate at Oregon State University in nearby Corvallis, employed by the university as a janitor, and created additional drawn works. During a brief sojourn in California, Matsuki painted a mural at a health spa in Isla Vista.
In 1985, Samizu met Earth First! activist Ron Huber in Corvallis, Oregon. Several months later, she drew the cover art for the August 1985 edition of the Earth First journal. The drawing featured Huber treesitting in an old growth Douglas Fir, confronted by two Linn County sheriff's deputies elevated to him by a crane. Samizu Matsuki's Maryland farmhouse, by artist Charles Trauth
Samizu married Huber in 1987. They moved to Cheverly, Maryland in 1988, then to Rockland, Maine in 1992. Neurological problems that flared up in 1991 while living in a farmhouse in Calvert County, Maryland led to a reduction in Samizu's painting and drawing efforts for more than a decade. In 2006 Matsuki underwent a physical and neurological rehabilitation regimen. In 2010 she was diagnosed with chronic Lyme disease, stemming from as far back as 1991. With chronic pain reduced to some extent Samizu has begun painting in oils once more.
Two of her works, Ah... and A Celebrator are owned by collector Cristina Chan Johnston of Huntingtown, Maryland. More than twenty of her works are owned by Andrew Delaney of Reno Nevada, and three more are owned by Herman Brown, formerly (1970) of New Jersey, whereabouts unknown.
Samizu's 1970s works aided in re-legitimizing realistic oil painting as a practiced high art form, challenging throughout the late 1960s to the middle 1970s, the then-dominant expressionist paradigm which Tom Wolfe profiled in The Painted Word. .
She is a 1958 graduate of Joshibi University, Tokyo, which was then called National Women's College of Fine Arts, where she studied under painter Setsuko Migishi, before moving to studies of western classical realism, as filtered through a capanese cultural lens.
This became her means of expression. Her paintings, entered to some of the great art competitions of the time. in defiance of the then prevailing American fixation on abstract expressionism, won her the Gold Medal at the 1970 First New York International Art Show, the Grand Prix at the 1971 Locust Valley Art Show, and the Award of Excellence at the Abraham & Straus-Hempstead Art Show, and electrified enormous crowds who flocked to her exhibited works at those venues. Click here for links to large size (2mb to 9mb) images of Triumphal Return and three others of her major works.
Matsuki's meteoric flash of awards was short lived. Failing health, including a spinal injury, at end of the 1970s cut short her career.
However, Samizu's 1970s efforts, like an artistic acupuncture needle reopening long clogged channels of creativity, played a subtle yet critical role in re-affirming the legitimacy of realistic oil painting as High Art in the American painting scene. Samizu's website: http://www.samizu.com See also Samizu Matsuki's wikipedia page for details about the painting of Triumphal Return, and more.